June 22, 2022 - NH Bankers Association: New Chair, Officers and Directors Elected at Annual Meeting
The New Hampshire Bankers Association (NH Bankers) elected Officers and Directors for the coming fiscal year during its Annual Meeting held on June 17, 2022. The meeting was well attended, with over 100 members of the New Hampshire Banking industry featuring Governor Sununu as the keynote speaker.

Kristy Merrill, President of NH Bankers said, "I am deeply grateful to our Chair, Reggie Greene, and our board for their support and leadership during the past year. With their steady guidance we were able to effectively advocate to help defeat the proposal for bankers to report to the IRS on customers with transactions over $10,000 and the proposal of a State Bank to hold cannabis proceeds from the State. Working closely with our board, we also hosted our first industry-wide Month of Service and continue to serve as a key resource for all our bank members on issues ranging from regulatory developments to helping attract talent to the industry."
April 20, 2022 - New Trustee and Three New Corporators at 2022 Annual Meeting
The Bank is pleased to announce a new Trustee.
Sera Gray – Chief Information Officer – Red River
Ms. Gray is responsible for implementing applications and processes to ensure efficient and compliant operations. She has been with Red River since 2005 when she joined the Accounting and Finance Unit. In 2008, she took on the role of Corporate Project Manager and worked to expand the Business Operations division. In her seventeen years with Red River, Sera has supported the company's aggressive growth through business intelligence and insights, quality management, partner integrations and M&A integration initiatives. She holds a B.A. in International Business from Elizabethtown College.
"We are delighted to welcome Sera to our Board of Trustees," said Reggie Greene, Claremont Savings Bank President and CEO. "Banks are delivering products and services through more and more sophisticated technology. Sera brings years of experience as a technology executive and she will help management and the board evaluate our strategy. She has a strong background in finance and has ties to both Claremont and the Upper Valley," continued Greene.
Additionally, the Bank announces three new Corporators.
Andre Lafreniere – Partner – Claremont Custom Framing – Claremont, NH
Chris Eldredge – McCrillis & Eldredge Insurance – Sunapee, NH
Ian Kipperman – Senior Accountant – Gallagher, Flynn & Company – Lebanon, NH
"We also welcome three new Corporators," said Reggie Greene. "Andy is a Claremont entrepreneur active in community issues. Chris has close ties to Newport and knowledge of business and insurance issues. Ian's work in public accounting and his location in Lebanon will help us to expand our presence in the Upper Valley market," continued Greene.
Claremont Savings Bank celebrates the retirement of long-time Board member, Frank Reed. Mr. Reed served on the Board of Trustees for 35 years. The Trustees and staff are grateful for Mr. Reed's service to Claremont Savings Bank for those many years.
March 31, 2022 - Washington Street Branch Drive-up is Reopening 4/4/22
The branch drive-up will be reopening for normal business hours beginning April 4, 2022. The lobby will remain closed for walk-in service at this time. If you have a Safe Deposit Box at Washington Street, please call us at 800-992-0316 Option 4 to schedule an appointment. Thank you for your understanding during these past months.
January 27, 2022 - Security Changes to our Website begin 2/14/22 (.com to .bank)
We're excited to announce that on 02/14/22 we'll transition over to Claremontsavings.bank from our claremontsavings.com domain to provide you an even more secure banking experience.
On that day, all visits to claremontsavings.com will be automatically redirected to claremontsavings.bank and all emails will be forwarded from our claremontsavings.com addresses to our new claremontsavings.bank addresses.
While website redirection and email forwarding from claremontsavings.com will remain in place for the foreseeable future, you should take a moment after our launch on February 14th to update your bookmark(s) to our site and any email addresses in your address book.
Our new .bank domain helps to prevent phishing attacks against our employees, customers, and vendors by providing a visual identification cue for our emails and websites. Going forward, you should authenticate our emails and website simply by looking for the ".bank " (rather than .com) at the end of our email addresses and at the end of our URL. If it's not .bank, it's not us.
You can learn more about .bank security here: https://www.register.bank/customerFAQ
The security of your assets and information continues to be our top priority, we love being your bank, knowing the needs of the community and our customers, while ensuring you have the security you would expect from a much bigger bank.
Why .BANK? It provides assurance to customers that our website is authentic. It is similar to seeing a .gov web address for a government website, or .edu for education websites. It verifies the website's legitimacy. Banking has remained one of the most phished industries for more than a decade and having a .bank domain prevents phishing and spoofing attacks that lead to identity theft and financial fraud.
What is .BANK? .bank replaces open domains, like .com, which can be purchased by anyone. It was created and is managed by banking and security experts, to provide a trusted home on the internet for banks to securely and effectively communicate with customers. Since its launch in 2015, thousands of banks have registered .bank domains and are now using them.
Why is .BANK safer? All .bank domains are required to meet robust security and technology standards and practices, and only verified members of the banking industry can obtain a .bank domain. This verification process helps to prevent lookalike domains from spoofing bank websites to steal customers' information and make it easy for anyone to immediately identify legitimate bank emails and websites.
January 26, 2022 - Washington Street Branch Lobby & Drive-up Closed Beginning January 31st Until Further Notice
Due to the current staffing challenges, as of January 31st we are closing both the lobby and drive-up services at our Washington Street branch location, until further notice. The Drive-up ATM only will be operational during this closure. The Night Drop will be closed and we ask that any drops be brought to another Night Drop location. If you have a Safe Deposit Box at Washington Street, please call us at 800-992-0316 Option 4 to schedule an appointment.
January 24, 2022 - Springfield Branch Lobby Closed to Walk-ins
During this time, we need to adjust our lobby hours for our Springfield, VT branch. Until further notice, the lobby will be closed to walk-ins. Please call us at 800-992-0316 Option 4 to schedule an appointment for in-person service or for a business change order. Our drive-ups will remain available during normal business hours.
December 31, 2021 - Springfield Branch Lobby Reopening Jan. 3
Beginning Monday, January 3, our Springfield Branch will reopen to walk-in business. Thank you for your understanding during the past month.
November 28, 2021 - Washington Street Branch Lobby by Appointment Only
The Washington Street branch lobby will temporarily be closed to walk-ins. Please call us at 800-992-0316 Option 4 to schedule an in-person appointment. Our drive-up is available normal business hours of Monday - Friday 8:00am – 5:00pm and Saturday 8:30am – 12:00pm.
November 22, 2021 - Springfield Branch Temporary Hours Change
At Claremont Savings Bank we are dedicated to being as open and available as possible. However, like many other industries facing challenges, we are no different. At this time, we will need to modify hours of availability at our Springfield, Vermont branch. Beginning November 26,2021, the branch located at 85 Main Street, Springfield, VT will be temporarily closing our lobby and moving to DRIVE-UP banking only, Monday-Friday 8AM-5PM, until further notice. Before coming to our branches, please visit our Facebook page for urgent updates, the Locations page of the CSB website or give us a call. We apologize for any inconveniences this may cause. If you are a business customer in need of a coin order, please call ahead to order and pick-up. If you need to access your Safe Deposit Box, please call ahead for an appointment. We thank you for your continued support and understanding.
November 4, 2021 - The FBI Warns of Fraudulent Schemes Leveraging Cryptocurrency ATMs and QR Codes to Facilitate Payment
The FBI warns the public of fraudulent schemes leveraging cryptocurrency ATMs and Quick Response (QR) codes to facilitate payment. The FBI has seen an increase in scammers directing victims to use physical cryptocurrency ATMs and digital QR codes to complete payment transactions. Continue reading...
October 19, 2021 - Mascoma Bank and Claremont Savings Bank Announce Funding for Monadnock Mills Housing in Claremont, NH
Mascoma Bank and its Community Development Lending Group is pleased to announce that it has provided Federal Historic Tax Credit bridge and construction funding for the rehabilitation of the historic Monadnock Mills building in downtown Claremont, NH. Working in tandem with Claremont Savings Bank, the nearly 54,000 square foot project, which is being managed by Chinburg Properties, will revitalize a key part of the city's historic downtown district, bringing more than 80 units of modern housing online to help alleviate a region-wide housing shortage. Monadnock Mills is close to public transportation and within walking distance of Claremont's economic and cultural center. The studio, one bedroom, and two-bedroom units will feature spacious open concept floor designs with attractive amenities that renters expect, including granite kitchens, high ceilings, and off-street parking.
The mill will be the 3rd of three mill buildings to be restored in a tight cluster along the picturesque Sugar River. The other two buildings are home to The Common Man Inn & Restaurant and the corporate headquarters for Red River Technology LLC.
Mascoma Bank President and CEO Clay Adams said, "Housing is one of the most pressing issues facing our communities in 2021. This project delivers on every level, providing good jobs in the short-term and new housing options for workers and families in a region where the shortage is profound."
Dick Jennings, Manager of the Community Development Lending Group at Mascoma, said "Projects like Monadnock Mills with its many positive community impacts are the lifeblood of the work that we do every day. We are proud to work with everyone involved to make this a reality."
Claremont Savings Bank provided additional funding for the project. Jim Lynch, Sr., Vice President of Commercial Banking at Claremont Savings Bank said, "It is exciting to see this historic mill property being redeveloped. This is an important project that will have a significant impact on the ongoing revitalization efforts in downtown Claremont."
Mascoma Bank Board member and Red River COO Dan McGee said, "As a local employer, one of the biggest hurdles we have for recruiting and retaining talent is the lack of housing in the area. This project will make it possible for businesses to grow and strengthen our local community."
Developer Eric J. Chinburg said, "This is an exciting opportunity to be part of positive changes in Claremont. I appreciate how wonderful the city of Claremont has been in navigating the process. Looking forward to the continuing Claremont Renaissance!"
Nancy Merrill, Planning and Development Director for the City of Claremont, said, "Bringing new housing to Claremont will help keep our downtown vital and prosperous. We're so pleased to work with these partners to spark development in our downtown and fill a critical housing need for our employers."
7/29/21 - Customer Appreciation Days are Coming!
We missed celebrating our customers last year, but we hope to see you during our Customer Appreciation Days this year! Come enjoy a Kona Ice shaved ice at our branches in August.
Springfield, VT - Tuesday, 8/10 at 12-1:30
Charlestown - Wednesday, 8/11 at 12-1:30
Washington St - Wednesday, 8/18 at 12-1:00
Main Office - Wednesday, 8/18 1:30-3:00
6/25/21 - Promotion of Timothy Bates to Senior Vice President Information Technology and Operations and Zachary Haines to Vice President of Operations
We are pleased to announce the promotion of Timothy Bates to Senior Vice President of Information Technology and Operations.
"We are delighted with the work Tim and his IT and Facilities staff have done for the Bank," said Reggie Greene, President and CEO. "We recently asked him to take on management of Operations in addition to his existing duties, and are recognizing his performance and increasing responsibility by promoting him to Senior Vice President. Tim is an important member of our executive management team," continued Greene.
Mr. Bates came to Claremont Savings Bank in 2007 with significant IT and Project Management experience gained at TD Ameritrade and while serving in the military. He is currently on the board of the Claremont Soup Kitchen. He has previously served on the Claremont Christian Academy and the Claremont Opera House boards.
"I am truly honored and excited to take on this new challenge," said Bates. "I would like to thank the Board of Trustees and Senior Management for their faith and trust in me to serve in an executive leadership position. I would also like to thank all the staff that have been on my teams over the 14 years I have been employed by Claremont Savings Bank for their hard work and tireless efforts for growth and constant improvement," continued Bates.
Mr. Bates resides in Claremont with his wife and children. He has a Bachelors of Science degree in Business from the College of Saint Joseph, and a Masters of Business Administration from Plymouth State University.
In addition to Mr. Bate's promotion, Zachary Haines has been promoted to Vice President of Operations. "Zach is compassionate with his staff and has a strong work ethic. He has a great attitude which rubs off on the entire Operations department," said Mr. Bates. "He takes great pride in his work which is evident in his project delivery. Zach has worked very hard to receive this promotion and it is my honor to be able to continue to work with him in the future," continued Bates. Mr. Haines began his career with the Bank in 2009.
5/20/21 - Drive-Up Hours Are Changing June 28
Starting June 28, 2021 we will be changing our drive-up hours at all of our locations.
Main Branch: Monday-Thursday 8 AM-5 PM, Friday 8 AM-5:30 PM, Saturday 8:30 AM-12 PM
Charlestown: Monday-Friday 8 AM-5 PM, Saturday 8:30 AM-12 PM
Washington St: Monday-Friday 8 AM-5 PM, Saturday 8:30 AM-12 PM
Springfield, VT: Monday-Friday 8 AM-5 PM
5/19/21 - Closing our Charlestown Road ATM
June 10, 2021 we will be permanently closing our Charlestown Road ATM. You can visit our other ATM locations found here.
5/10/21 - Announcing New West Lebanon, NH Branch
We will be opening a full-service branch later in 2021 at 106 North Main Street in West Lebanon. The branch will occupy the first floor of a building owned by Jeff Shapiro and the home to his Great Eastern Radio stations. Great Eastern Radio will consolidate its offices and studios on the second floor. The branch opening is scheduled for this summer after renovations are made and regulatory approvals are secured.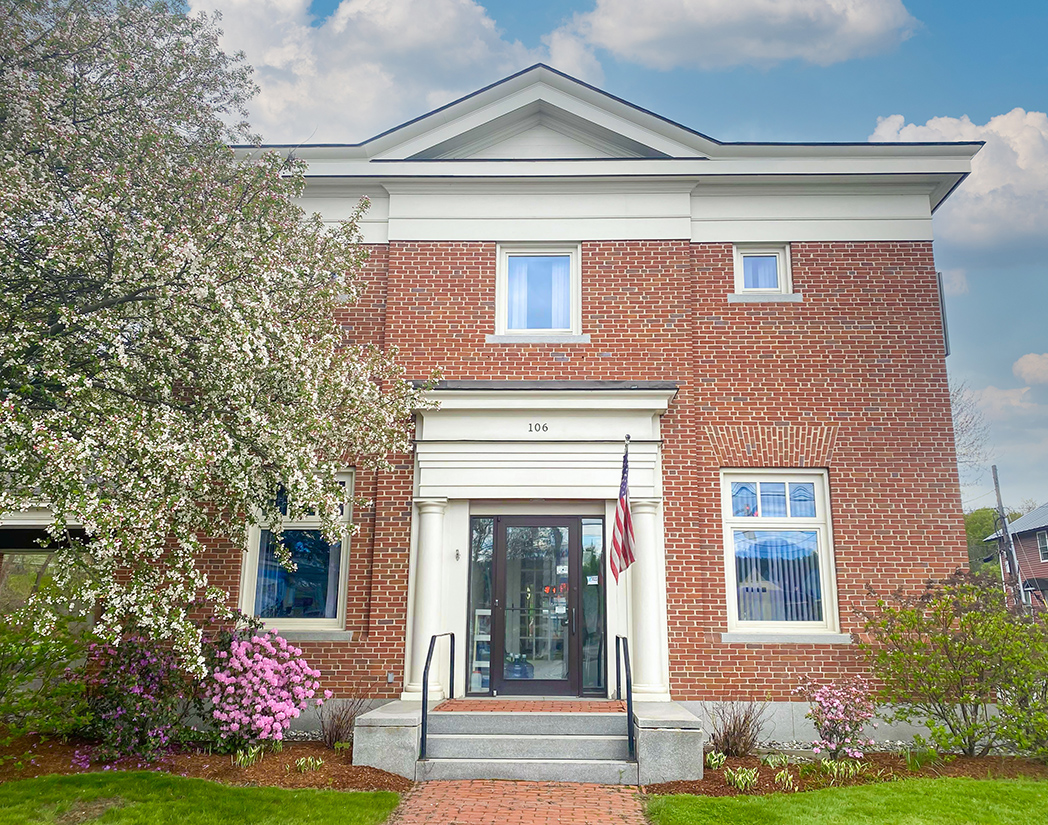 "We have talked about expanding north for many years", said Reggie Greene, President of Claremont Savings Bank. "West Lebanon is only 25 miles from downtown Claremont, and many people live in Claremont and work in the Upper Valley, or vice versa. Having a Loan Production Office in West Lebanon for the past three years has allowed Claremont Savings Bank to integrate into the community and learn how similar our markets are," says Greene.
We have been making commercial and mortgage loans in the Upper Valley for many years. The lenders from the Loan Production office will move to the new branch location.
"As a former bank, the building is perfect for our use", said Greene. "We could not have picked a better location than West Lebanon village, just across the river from White River Junction, down the road from Hanover and close to everything in Lebanon." "We think we can capitalize on our lending success and build a retail presence in the market with our great service along with the attractive products consumers expect."
"We are excited about this new opportunity," said Carol Vivian, Senior Vice President of Retail Banking. "We care about all of the communities we serve and look forward to serving our new market."
Stay up-to-date on our opening progress.
5/3/2021 - VT COVID Emergency Mortgage Assistance
The State of Vermont received money through the Federal CARES Act to help people pay back mortgage payments they have missed due to COVID-19. Vermont Housing Finance Agency (VHFA) is accepting applications starting May 3, 2021.
Eligbility Requirements:
Homeowners living in Vermont as their primary residence
Mortgage entered before March 1, 2020 (home-equity loans and reverse mortgage are NOT eligible)
Missed payments since March 1, 2020 due to a COVID-19 hardship
Income for all borrowers up to $84,000 in 2020 or up to $21,000 total income in the last 90 days. For homeowners in Chittenden County this limit is $96,000 in 2020 or $24,000 in the last 90 days.
Eligible even if the mortgage is already in forbearance or deferment
This is a mortgage foreclosure prevention program so only those households with mortgages are eligible to receive assistance with property taxes.
3/30/2021 – Economic Impact Payment delays for SSI and SSA recipients
The Social Security Administration has noted that there may be a delay in receiving your Economic Impact Payment if you receive SSA or SSI. Please visit the SSA website for the latest news.
3/12/2021 – Economic Impact Payments Arriving
We have begun receiving ACH files from the Treasury containing Economic Impact Payments (EIP's) as part of the American Rescue Plan Act of 2021. You may see these payments as "Pending" via online banking or mobile banking. These payments will be credited to some accounts as early as March 17, 2021.
View information on the American Rescue Plan Act of 2021, signed into law on March 11, 2021 or find out more about your payment on the IRS website.
3/8/2021 – Upgrading E-statement Portal March 25, 2021
We are upgrading our e-statement portal on March 25, 2021. This means when you check your electronic bank statements this month, you'll notice things look slightly different.
While it looks a little different, it still functions in the same way but with fewer clicks to access statements.
If you have questions or any accounts you'd like to enroll in electronic statements, go here or call us at 603-542-7711.
2/26/2021 – All CSB Lobbies Reopening March 1, 2021
We are excited to reopen all our branch lobbies starting Monday, March 1st. We have been monitoring the new COVID-19 cases in our communities and are ready to open our lobbies again. Based on the guidance of the Governor, masks will be required with few exceptions and social distancing guidelines will be followed.
With the reopening of our lobbies, the walk-up teller window at our Broad St. branch will be closed beginning Saturday, February 27.
We look forward to seeing everyone in person again!
1/6/2021 – All CSB Lobbies Closed Effective Jan. 9, 2021
With the increasing concern and uptick in positive COVID-19 cases in New Hampshire and Vermont, we will be closing all our branch lobbies as of 1/9/2021 and they will remain closed until further notice.
All drive-ups will remain open regular hours. Lobby access can be arranged by appointment for those services that you are unable to do online or through our drive-up. Please call ahead to schedule an appointment.
We are also excited to share that on 1/11/21 we will be opening a new walk-up window at our Main Office, 145 Broad Street, Claremont, NH. This window is accessible at the entrance on the Broad Street side of the building. Walk-up services include deposits and withdrawals, new or replacement debit cards, notary services and business change orders. Please look for signs and instructions on how to safely use this new feature.
WAYS TO BANK REMOTELY
WAYS TO BANK AT LOCATIONS
Drive Ups
All regular teller transactions
Cash advances
Walk Up Window (Main Office Only)
All regular teller transactions
Notary
Issue ATM/Debit Cards
Business Change Orders
By Appointment
Appointments to meet with a member of Customer Service, in both NH and VT, can be scheduled by calling 800-992-0316.
Notary**
ATM/Debit Cards**
Business Change Orders**
Safe Deposit Box
Medallion Signature Guarantee
Loans: when unable to apply electronically
New accounts: when unable to open electronically
Via Telephone
We will continue to offer all the services you are accustomed to utilizing when you call
Wire transfers
New Accounts for existing customers
For more information on our digital banking tools, click here.
Thank you for your understanding as we take the appropriate actions to ensure we are available for our customers while keeping everyone safe. We will continue to assess the situation as it evolves.
*Mobile carrier fees may apply
**Available in addition to the walk-up window
1/4/2021 - Claremont Savings Bank is proud to announce the following promotions.
Brenda Cox to Vice President, Commercial Credit Administration
Melissa Wooddell to Vice President, Loan Operations
Julie Martin to Vice President, Business Services
"Brenda's strong analytical skills and focus on identifying and quantifying risks serve her and the Bank well in her role as Commercial Credit Department Manager," said Jim Lynch, Senior Vice President Commercial Banking. "Her patient and diligent approach to completing tasks and solving problems has earned her the respect of her team members and co-workers throughout the organization," continued Lynch.
"Melissa's approachable nature and strong knowledge of lending are just a few of the traits that make her a tremendous asset to the Claremont Savings Bank Lending and Management Teams," says Carol Vivian, Senior Vice President Retail Banking. "Melissa has been with CSB since 2006 working on expanding her lending knowledge working in a variety of positions within the Bank," continues Vivian. "Her experience throughout several areas of the Bank has provided her with insight that makes her a great problem solver."
"Julie manages our Business Services Department and she is determined to always provide the highest level of customer service possible" says Jim Lynch. "She leads by example and her positive energy and desire to help customers, co-workers and our communities makes her a valuable member of Claremont Savings Bank and our Commercial Banking Team" continues Lynch.
12/30/2020 - Economic Impact Payments
Economic Impact Payments from the Treasury Department and the Internal Revenue Service will be electronically credited to some accounts as early as January 4, 2021. Paper checks will begin to be mailed December 30, 2020.
Additional information from the U.S. Department of the Treasury can be found here.
Subject to change.
11/19/2020 - Springfield Branch Lobby Closed effective 11/23/20
In an effort to keep our staff and our customers safe, we are closing the Springfield Branch lobby to walk-in customers starting November 23, 2020.
Our drive-up hours will remain the same: Monday - Thursday 8:00am – 5:00pm and Friday 8:00am – 5:30pm
If you need in-person service, please visit one of our other branches.
To access your safe deposit box in Springfield, please contact us at 800-992-0316.
Our New Hampshire lobbies are remaining open at this time. If you have any questions or concerns, please contact us. We will keep you informed as circumstances change and we appreciate your understanding.
10/26/2020 - VT Mortgage Assistance Program
November 6, 2020 will be the last day for Vermont homeowners behind on their mortgage payments due to COVID-19 to submit applications to the Mortgage Assistance Program administered by VHFA. Funded by the CARES Act through Vermont legislation enacted in July 2020, mortgage assistance grants for up to 6 months of missed payments are available to any homeowner who meets eligibility criteria, even if they have already arranged a forbearance agreement.
Information and application materials are available on VHFA's website at www.vhfa.org/map. Although it is administered by Vermont Housing Finance Agency, the program is open to all eligible homeowners, regardless of whether they have a VHFA mortgage or not.
Data on the program to date:
https://www.vhfa.org/partners/initiatives/map
9/11/2020 - U.S. Coin Task Force Adds New Resources to #getcoinmoving
After publishing its initial recommendations and resources for addressing the coin circulation issues in the supply chain as a result of COVID-19, the U.S. Coin Task Force has published new resources for financial institutions, armored carriers and retailers, designed to help #getcoinmoving.
Since convening in July 2020, the U.S. Coin Task Force has completed two work sprints, focusing on identifying, refining and promoting strategies to resolve the coin supply chain issues resulting from COVID-19-related disruptions to normal coin circulation. At the conclusion of the initial work sprint in July, the task force determined that it should continue work in order to develop resources that would facilitate a consistent public message and a more expedient and uniform adoption of the task force's recommendations. The U.S. Coin Task Force encourages retailers, financial institutions and armored carriers to use the resources to counter the ongoing coin circulation issues.
How you can help:
Start spending you coin
Bring coin to the bank for deposit into interest bearing accounts
Return coin to the bank in return for bills
8/12/2020 - Fraud & Scam Resources
Federal Trade Commission Consumer Information Current Scam Alerts
https://www.consumer.ftc.gov/features/scam-alerts
Federal Trade Commission Consumer Information Privacy, Identity and Online Security
https://www.consumer.ftc.gov/topics/privacy-identity-online-security
National Cybersecurity Alliance
https://staysafeonline.org/covid-19-security-resource-library/
Report suspected scams to the FTC at 877-FTC-HELP (877-382-4357) or at ftc.gov/complaint
Report suspected COVID-19 fraud to [email protected]
7/10/2020 - CSB Announces, Appointment of Brandy Blackinton as SVP, Retail Lending
"Brandy joined the Bank in 2013 as Vice President – Retail Lending Manager," said Reggie Greene, Claremont Savings Bank President and CEO. "In February, she was promoted and now manages our entire retail lending department including originations, loans purchased and sold, and the credit administration function, which includes underwriting and processing," continued Greene. "She does a great job for the Bank in her area of responsibility and will be a key member of the senior management team."
"I am thrilled to join the Senior Management team at Claremont Savings Bank," said Ms. Blackinton. "I look forward to the engagement with the team as we move the Bank towards continued growth and outstanding customer service."
6/26/2020 - Self Employed Relief and Main Street Relief Appeal
Governor Sununu announced a new relief effort for self-employed individuals. Self-employed businesses (those with no employees) had applied for the Main Street Relief Fund, but were deemed ineligible after the initial prequalification process.
The Self-Employment Livelihood Fund (SELF) will be capped at $50,000 per grant for qualifying business people.
For a self-employed individual to qualify:
Must be located in New Hampshire
Must have no employees
Must be a for-profit business
Gross receipts for 2019 must be less than $1 million.
Business cannot be permanently closed - (not including temporary closure due to COVID-19)
Business cannot be in bankruptcy
Applications should be available soon.
Main Street Relief Program Appeal Process:
If you believe that there was an error in the information you submitted which could have impacted the reason(s) for denial, you may file an appeal by sending an email to [email protected] by July 2, 2020, at 11:59 p.m.
Your appeal email must contain the following:
A copy of the denial e-mail
Explanation and documentation to substantiate your claim
Appeals that are sent by any method or that are not received by the deadline will not be considered. Information and documentation you submit will be used to make a final eligibility determination. Appeals that require recalculation of the anticipated gross loss reported on your original Final Grant Submission cannot be reconsidered.
Click here for more information.
---
6/18/2020 - Press Release
Claremont Savings Bank Announces New Corporators at 2020 Virtual Annual Meeting
View PDF
---
Elder Abuse Awareness Resources
Protecting our Communities From Scams
Coloring pages for kids:
---
Reopening Notice
We are excited to report we will be reopening our branch doors.
Effective Monday, June 8th, we will reopen all branch lobbies to the public, however we will do so in adherence to guidance set forth by the Governor. We want to proceed with caution, so we ask that you continue to practice safe and healthy illness prevention methods inside our facilities moving forward.
We encourage all customers and guests of Claremont Savings Bank to follow social distancing guidelines, while within the branches. All employees will be wearing face masks while in customer areas and masks will be available to customers if you would like one.
To ensure safety:
Main Office: You will be welcomed by a greeter and guided where to go within the branch.

Branches: Follow signs and floor markings for where to go within the branch.

Avoid close contact – Please maintain social distance in our facilities by allowing 6 feet of space between yourself and others, including while waiting in line.

Maintain personal space – Keep extra space between yourself and others in line.

Please be aware that if you are wearing a mask, we may ask you for identification and to show your face in case we don't recognize you.

Hand sanitizing stations are available for your use.

We have plexiglass barriers at teller windows and customer service desks, where customer contact is frequent.

High-touch surfaces will be cleaned frequently throughout the day, including teller windows, desks, countertops, door handles, plastic and vinyl chairs, and stair railings.

We have social distance markings in our lobbies. Thank you for waiting safely.

We are sorry that bathrooms will not be available.

Each location will have limited number of customers and staff in the location at a time.

Main Office: 14 Customers

Branches: 4 Customers
We have removed our internet café's from each branch. If you need to access computers, please call a member of Customer Care or talk with Customer Service in-branch.
Please keep in mind that some of these safety measures may result in a longer wait time. We thank you in advance for your patience while we implement these safety measures and for your cooperation.
We're committed to being responsive to the needs of our customers and community as we cautiously transition back to usual business operations. We'll keep you informed via our website at claremontsavings.com if further changes in protocol are required.
Should you have any specific concerns, please contact us at (603) 542-7711.
Thank you for your patience and cooperation as we work to get things back to normal.
Sincerely,
Reggie Greene
President and CEO